A SMART DNS Proxy vers VPN, What's the Difference ? .
Those are the two most popular tools for unblocking TV video websites – a smart DNS and a VPN.
Many users are confused in their choice and don't know which one is better to use.
Both Smart DNS and VPN offer similar unblocking features. However, they are very different technologies.

VPN offers superior security and privacy as compared to Smart DNS. But VPN speeds are slower due to encryption.As you will only unlock streaming sites in the US encrypting the video signal is not really what
you want to do.

Here is the Difference between Smart DNS and VPN explained on the schema below: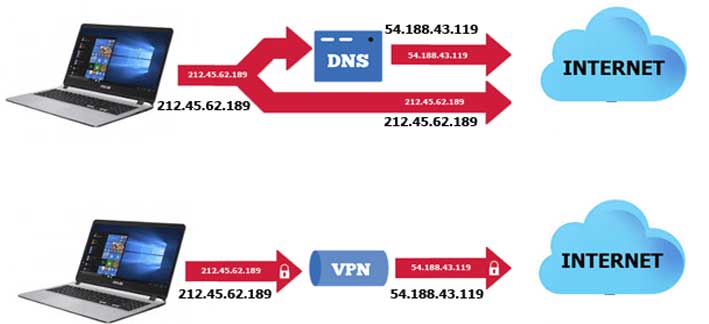 A Smart DNS will replace the DNS address of your device and routes ONLY the TV part of your traffic through its own DNS server, making it appear as if you are located in the United States. All the rest of your traffic is routed through the usual way through your internet service provider. Since a Smart DNS does not encrypt or tunnel your internet traffic, it offers fast connection speeds. A smart DNS is generally consider to unlock better US Netflix.

A VPN will tunnel and encrypt all your traffic through an intermediary server.
and privacy is better than with a Smart DNS.